Mobile app technology is the latest trend among the global smartphone users. From corporate world to industrial atmosphere, mobile apps are getting popular with rapid growth. Today, the majority of enterprises and firms are introducing their business related applications in order to reach out the worldwide population and generate increased profits. However, the evolution of app technology is not specified for engaging customers or promoting the product or services only as it is also advantageous for monitoring the enterprise mobility. Therefore, hiring a mobile app development agency is a favorable option for getting a feature-rich & user-friendly app for upsurging the rate of productivity and expand the business efficiently.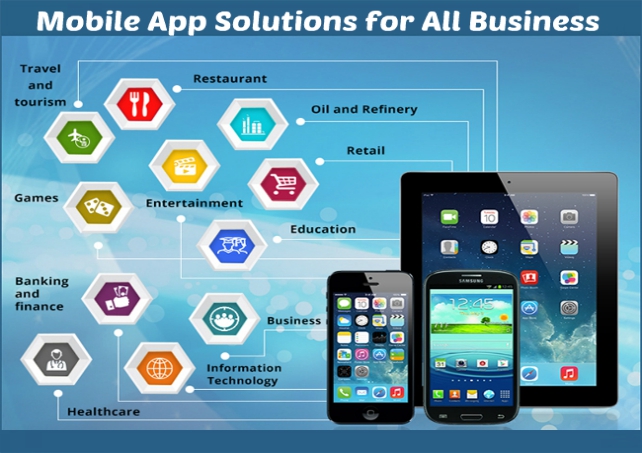 In many ways, a mobile app benefits the company and its employees which are necessary for time and cost management. With the advent of several app accessible platforms which are based on IoT, Wearables, & Augment reality technology, the demand for high performing apps is increased among the startups & leading organizations. That's why, the majority of app development service providers are making the best use of this latest technology and focusing on providing the best-in-class mobile app solutions. Without any doubt it can be said that there are several advantages linked with any business mobile app and some of them are given below:
Enterprise mobility solutions are favorable for multiple purposes- Enterprise apps are specifically designed for monitoring several business operations in respective of the resources and standard processes. For the convenience and simplification of different tasks, the entire staff may enjoy the benefits of accessing an enterprise app and handle various operations in the most proficient manner. Irrespective of the business type and company's services or product, an engaging enterprise app offers various options to manage various operations which include finance, production, sales or profits, staff & employees, management teams, transport, and other facilities.
Mobile apps are meant for reducing time consumption- Obviously, time is precious and it is highly crucial for the company's growth. In the race of staying ahead with fast and on-time services, many employees have to follow several extended processes such as repeated paperwork that includes printing forms, form filling & collection from customers, scanning them, reminding customers via mail or SMS, and making calls for clarification or verification. With the help of a cross-compatible mobile app, all these steps are wrapped up for the reduction of time usage & cost as well.
Business-related app enables multitasking for working smartly- Many employees agree that it is really a painstaking task to manage accounts and the huge volume of data via desktops or spreadsheets. Though mobile apps have abridged every complexity that counts on the streamlining processes and piling up of extra work, enterprises are taking steps towards increased sales and market share. With the help of mobile app development company, every agency is upholding a useful app for managing their work which requires funds and charges for the usage of ink, printers, and scanners. With the help of fully-functional and a highly compatible enterprise app, the employees can work freely without any hassle.
Teamwise work management via enterprise mobile app- Many tasks are performed by several staff members and teams who have to manage their work for positive output. As every department is meant for handling a specified functions, they are prepared for handling multiple projects and fulfill the requirements in bulk. Almost every mobile app development service provider designs an app for automated work management functionality that enables the employees to assign their work and keep a track on its progress.
As the enterprise mobility solutions are favorable for all platforms, every employee can have access to the business related app and the entire team can connect instantly and share any essential information to all members. Generally named as a cross-platform workload automation app, its features allow the users to check out their tasks on the priority basis and monitor the project as per the deadline.
Location-based mobile apps for efficient marketing- Every business owner aspires to promote his business on the global platforms with the wide customer base. For extending the reach to the worldwide customers, companies are introducing multilingual apps in order to communicate with the international clients and redefine favorable marketing strategies. Through a localization app, the marketers may get an idea regarding the idioms, languages, preferences, and needs of the target audience from a particular region or a country.
Knowing enterprise mobility as a primary factor to reach out the probable customers & maximize the market share, a mobile app developer integrates features based on Geolocation, translation dictionaries, charts on local dialects, and cultural info of the area as well.
Summing it Up!
We have summarized all necessary points which are favorable for the enterprise mobility via mobile app solutions. For project management, reduced time consumption, employees' convenience, monitoring data or finance, cutback of extra expenditure, project. While accessing the business related app many complex tasks which are time-consuming and unaffordable for any organization and its employees. That's why, availing app development services from getting an easy-to-access enterprise mobile app is the great step for establishing the business successfully & generate increased revenue through it.