1.Denmark
If you plan on traveling internationally for the first time, this truly is a great place to relax. Most Danes speak both English and Danish, so you won't have to worry about completely feeling like a fish out of water. The city boasts soothing boat rides, stunning views, delicious pastries, and great public transportation. The nightlife also runs until 8 am at select venues.They offer free sunrise breakfast if you're interested in a little bit of fun as well.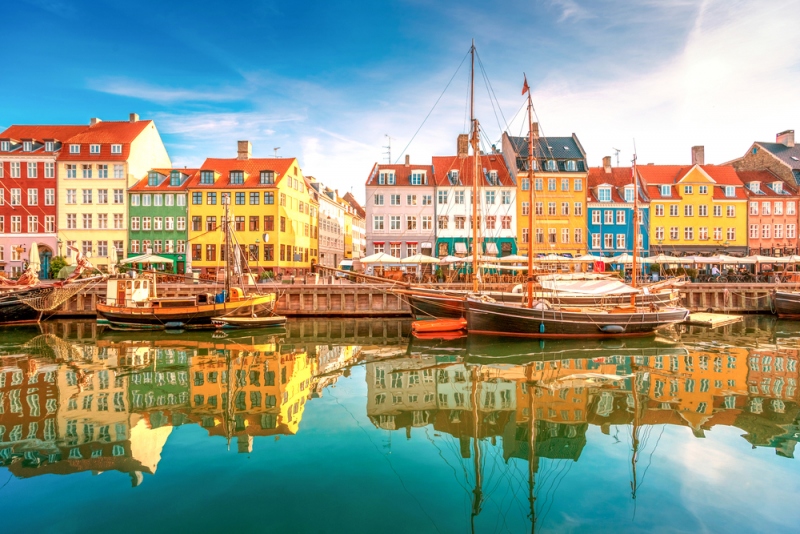 Known as one of the top 10 happiest countries in the world, Denmark also makes this list for one of the top places to relax. Here you'll find an economy where people are not obsessed with the materialistic things in life. Danes are encouraging, healthy people who ride city bikes virtually everywhere. All fastfood portions are smaller than the United States because they are so health conscious. Dried fruit carts lace the street for a nutritious snack on-the-go. Denmark offers complimentary healthcare and college for their citizens.
2.Las Vegas
Speaking of spicy fun, Las Vegas is next on our list. Here you will find some of the best hotel deals in America! We are talking about great hotel rooms on the Las Vegas strip as low as $17 a night on the off season. Most properties also boast beautiful spas on location. Many of these spas use Earthlite high-quality massage beds in order to give their clients the best experience possible.
Although most people think of Vegas and think of gambling, drinking, and sex, it's not the only thing this city has to offer. Red Rock Canyon, Mt.Charleston, Lake Mead, and The Hoover Dam are all part of Las Vegas and ClarkCounty. These gorgeous sites are perfect for healthy hikers looking to clear their mind. Aim for Red Rock in the spring before it gets too warm, then head to Mt. Charleston when you feel like Las Vegas is too hot to bare. When the temperature rises to 101 degrees Fahrenheit on the Las Vegas strip,temperatures will pleasantly be 80 degrees over at Mr. Charleston because of the altitude. It is every local's secret escape.
3.Florida
The state of Florida offers a little something for everyone, depending on the city you choose to visit. One very popular destination for couples and family alike is Orlando.
Orlando is a great choice if you're looking for somewhere where the whole family can take a break. If you have yet to make the trip to Disney World, just know it is impossible to see all four parks in just one day. Epcot and Animal Kingdom are the two more relaxing segments if you want to skip the lines and children. Gorgeous 5-diamond hotels, like the Grand Floridian, are also linked to the park via an above-ground rail system, so you can stayin stunning properties and visit the hotel spa while you are at it.
4.San Diego
If you are looking for the best weather in the United States, San Diego is where you will find it. The seafood here is also some of the freshest you will find, so if you're a fan, make sure to indulge in the crab. Beaches are everywhere, and dog beaches are also an amenity here! Happy, playful dogs of all sizes can have their beach day too! It is free, just like a dog park except these dogs appear to be having way more fun.
Popular resorts boast incredible 30th-floor balcony views where you can sipa mimosa, sit back, and simply relax. There are so many boat rides to choose from and live music happens on almost every corner at night. If you are looking for the beach, a place for your dog, the ocean, amazing hotel rooms, seafood,and boat rides, then this destination is for you.
5.Home
Lastly, maybe you don't have the time or budget to go away on vacation, and you solely have the time to take a few days off to compress at home. Head to the store and purchase a few quick items. Grab a charcoal detoxifying mask, a gel eye cover, a soaking tub for your feet, Epsom salts, and an aroma therapy candle. Make your own spa day at home. You deserve it.Remember, whether you stay at home, leave the country, or stay in the United States, there is always a place to relax. A spa day is only one vacation away