When it has started to freeze, many people need to consider how to properly control their driving situation. In a winter situation, we need to slow down, stay in full control and stay alert while we are driving. Blizzard should prevent us from driving and slippery, ice-covered road could cause many types of accidents. We should prepare our car and ourselves for any possible accident. We should perform various safety measures, so we are able to cope with icy and snowy driving situations. During a long road trip in winter situation, we should consider a number of common sense. There are a few things that we need to prepare, such as taking enough rest before we drive. It is a bad thing to be fatigued when we start driving during winter months. It is a good idea to take a break every a few hours. We need to stretch our body during any long trip. Light exercise during rest session could keep our circulation up. When driving, we should move our legs and arms, especially when the car stops in intersection. This will ensure smoother blood circulation in our arms, hands and feet. During long trips, it is actually quite easy for many of us to experience symptoms of hypothermia, without realizing it.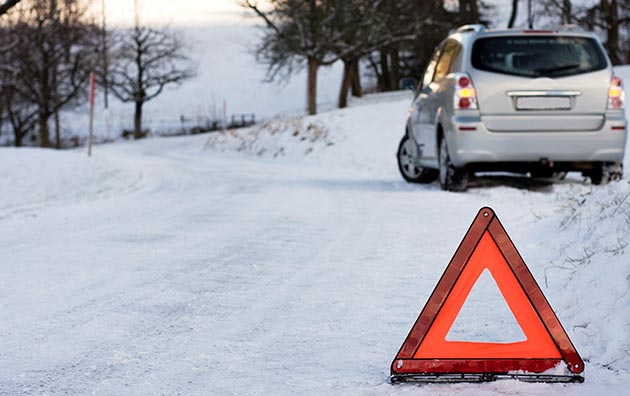 It's also important to dress warmly and wear layered clothing. However, we should avoid wearing heavy and tight-fitting clothing. In general, we should position ourselves far too long at a single place. We may take turns sleeping, if there are more than a single people in the car. If we rotate drivers, it should be much easier for us to reduce fastigue, especially for longer trips. It is obvioulsy important that we are able to plan our long trips accordingly and properly. As an example, we may need to listen to latest news about the latest conditions of the road. Damaged tires may pose significant risk and it's something that we need to avoid. In some cases, tires need to have studs or chain to ensure that cars are able to grip properly. Tires tend to deflate more easily during very cold weather, so we should make sure that they have proper air pressure. The windshield and windows should be kept clean of ice and snow. Small broom and windshield scraper are essential during long-distance trips to make sure that snow and ice can be removed. If ice layer can't be removed, slightly warm water can sprayed to the windshield with a small bucket, but we need to remove the loose ice and excess water immediately. When we start to drive, the windscreen should be dry and free of ice.
It is also important that the gas tank is never less than half full, because in some cases; fuel can be difficult to find in cold weather. With enough precautions, we should be able to ensure safe journey during the trip, regardless of our destinations.