With an estimated 224 million smartphone users in the United States and 2 billion worldwide, people are more connected than ever before. Taking that connection to the appliances in the home is the next obvious leap. With the Jenn-Air app available from Google Play and the Apple App Store, Jenn Air appliances can be used and monitored from the convenience of a smartphone.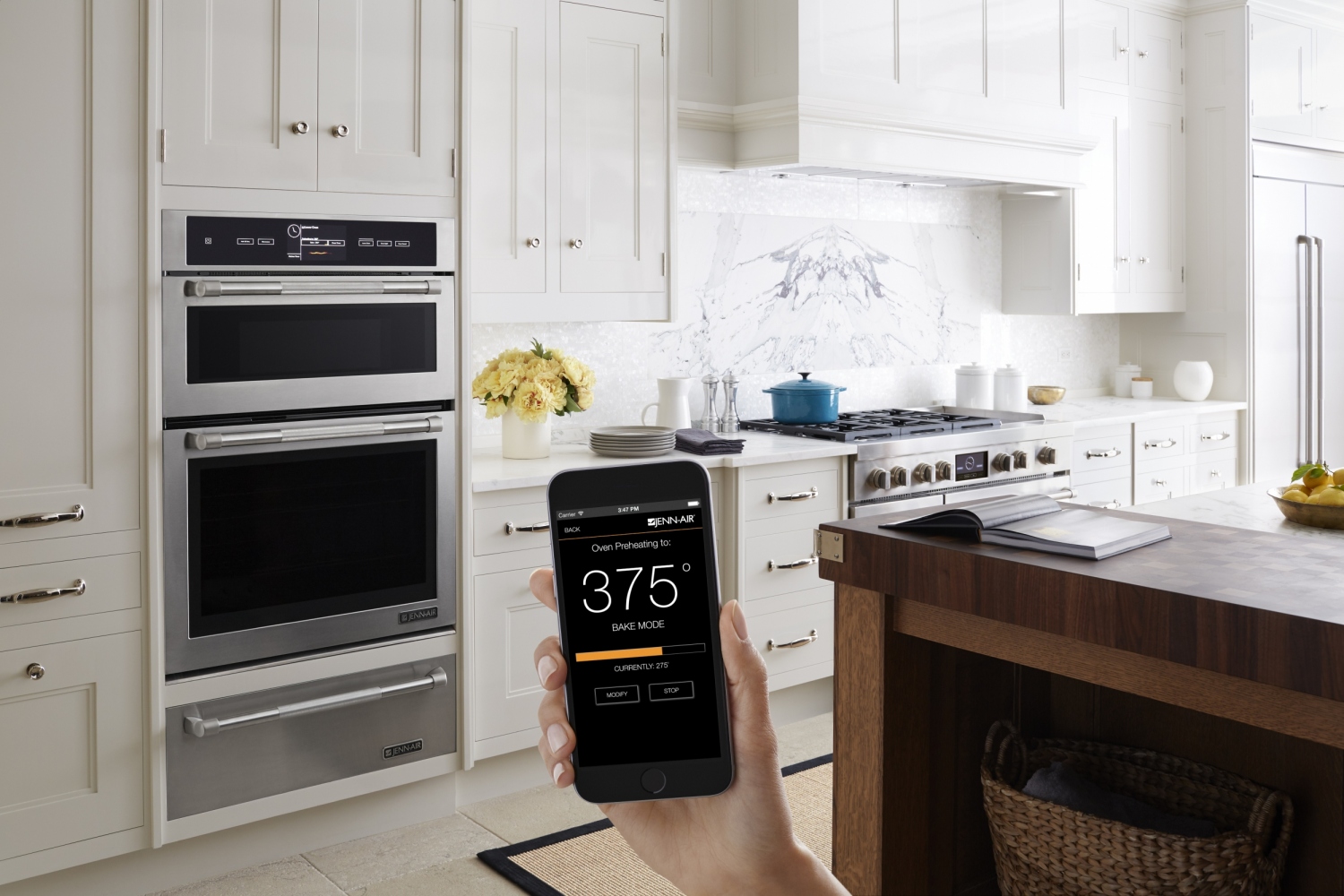 Jenn-Air Connected Oven
The oven is one of the most important, and potentially dangerous, appliances a home. It can also be one of the most frustrating if set improperly (such as forgetting to pre-heat or setting the wrong cooking time) or when it plays havoc with the heat inside a home, affecting thermostat settings. With the Jenn-Air app and the Connected Wall Oven, those frustrations can be eliminated. From an Android or Apple smartphone, users can set the cook time, the cook mode (bake, broil, etc.), temperature, and even the time to start the oven! For safety, the app can be set to alert users if the oven is left on, and when connected with other home connected devices (such as Alexa, Google Home, or Nest), users can modify the thermostat settings while the oven is running.
Voice Commands with the Jenn-Air App
What sets Jenn Air appliances apart from other connected appliances is that the Jenn-Air app allows users to do all of this with voice commands. Want to preheat the oven? "Google Assistant, tell Jenn-Air to preheat the oven to 350 degrees." Need to know how much longer before an item is done cooking? "OK Google, ask Jenn-Air how much time is left on the oven." Need to check if the oven was turned off? "Alexa, ask Jenn-Air if the oven is off."
Other Jenn-Air Connected Appliances
The Connected Wall Oven isn't the only one of the Jenn Air appliances conveniently connected. The Connected Dishwasher and the 72″ counter-depth French door refrigerator can also be connected and used through the app. Control the refrigerator and freezer temperatures and get alerts if the temperature goes too low or too high (such as a door being left open). And because the app is on a smartphone, the user doesn't even need to be at home to be alerted.
Connected Appliances for the Modern Kitchen
It just makes sense that in the 21st century the basic functions of home appliances no longer require the same methods of input to be used that they did decades ago. Appliances no longer need to be locked in the past but can be set free to communicate and work with technology the way people do. Jenn-Air connected appliances and mobile devices create a smart, connected kitchen that makes "ease of use" so much more than a simple phrase.