Millions of motorcycle enthusiasts enjoy spending time exploring the world on their bikes. There are tons of exciting adventures waiting to happen along the millions of miles of roads in the United States. One area that has consistently stood out for the best scenic roads is Southwest in the states of Arizona, New Mexico, and Colorado. The Southwest flavor of red rock, winding rivers, high, arid mountains, and dry deserts offer motorcycle riders something different, exotic, and new. In Arizona alone, there are so many roads to discover. Below is a mini guide to help you on your way.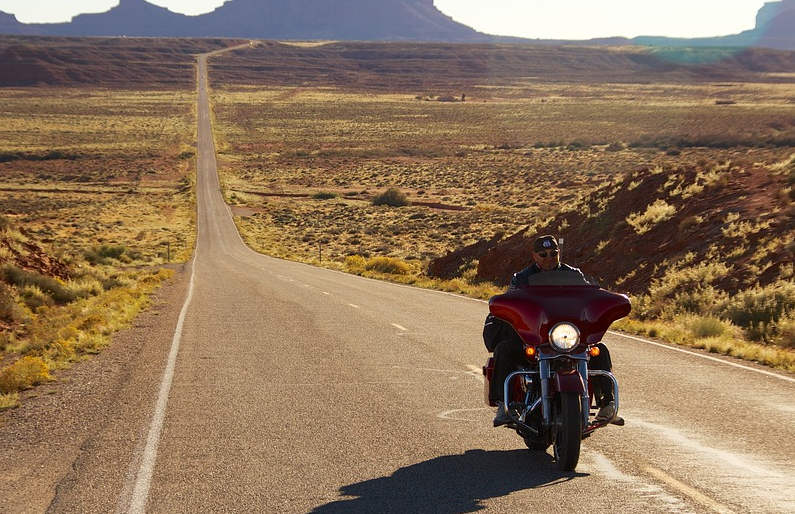 Eastern Arizona
Riders can enjoy a variety of landscapes along the scenic route of Arizona's Highway 191. The route travels north and south through the state, fairly close to the state border of New Mexico. The road is mainly two lanes, and travels through various small towns. In the northern parts, the landscape is desert rocks and very little vegetation. Through the middle of the state, the highway winds through the White Mountain. Travelers will then drop through one of the largest mines and then come to the town of Safford. The highway continues south past Safford until it ends at Interstate 10.
Flagstaff and The Grand Canyon
Another popular destination for motorcycle enthusiasts is the Flagstaff area. This town is located in the northern part of Arizona and is a gateway to many exciting adventures. The best ride in the area is to take Highway 180 to Highway 64 and back down Highway 89. This ride is a loop from Flagstaff up to the Grand Canyon and back down to Flagstaff. It is one of the most scenic rides in the entire state. There are multiple views of the San Francisco Peaks, a beautiful church nestled in the woods with a gorgeous view of the mountain, and the Grand Canyon. There is a fee to enter the National Park, however. The views coming back down Highway 89 include the Sunset Crater Volcano National Park and Mount Elden.
Sedona, Prescott Valley, and Jerome
Highway 89 has another scenic ride that many motorcycle enthusiasts enjoy year-round. This ride can begin, or end, in Flagstaff to coincide with a ride to the Grand Canyon if time allows. There are many amazing sights along this trip including; Oak Creek Canyon, the red rocks of Sedona, and the majestic mountain that is home to the town of Jerome. There is also a ton of shops, museums, and historical buildings to stop and enjoy along this route. The majority of this road is windy and only two lanes. The section going up to Jerome may be impassable to motorists during inclement weather during the winter months.
There are many exciting places for motorcycle enthusiasts to ride their bikes. Arizona has some of the best scenic roads in the Unites States' Southwest. Please remember to always ride safely, review common road hazards, and plan your route in advance.